07/09/2020 whippedboy11
Kinda boring. REALLY likes to hear herself talk. For the operator, if you're going to present yourself as somebody who is trying to present goals or Solutions, Maybe let the listener know what those may be?
Dip shit, I AM not hear to tell u what u want to hear first and foremost :). blaming others for ur actions is incorrect bc how others treat u?
The situation is he wants to be abused/humiliated for another person's pleasure. There is No Cure, Solution, or Goal. It's a game, I'm giving him reality which socio narcissistists will never acknowledge.
allowed others to take advantage of u be responsible for choices u made. Using how people treat u is a piss poor excuse in victimizing people.
Otherwise ur complicit to the game asshole and disconnected with reality. A 55 yr old lost boi who never grew up. No, asshole u want Me to feel sorry for u, and that will never happen.
Feeling sorry for u? Why when u allowed others to abuse u without ur consent?
What I know is I have been abused 43 yrs come @ugust 14th…I will never become my situation or circumstance. My question why do that to somebody else?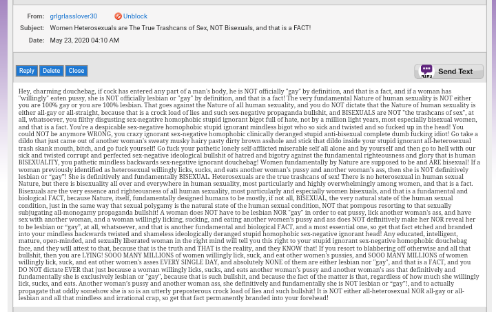 I married a closeted bi male. Had I known he were bi sexual. I would have never touched him in the first place, but I married imbicile fuck what does that say about me? I married a lie
Thank you for making cam women feel beautiful, desired and wanted! Maybe, I'd like you with your clothes off :) Great msg..Funny text asked, If I was back on cam? base title reads voice only..I told him once I return to cam, line reverts back to Cam2Cam Voyeuristic Desires. I said, "hope ur not shy." 3-2-20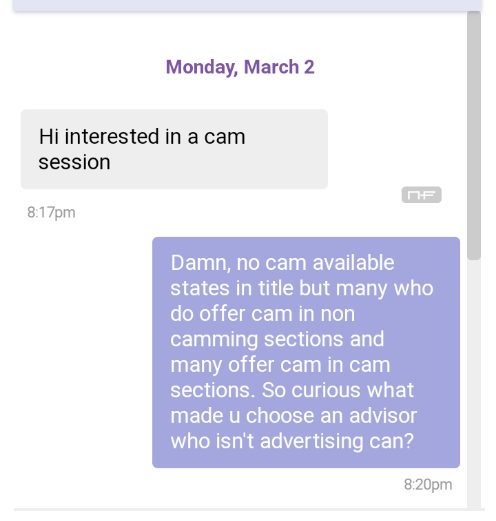 Notes on a conditional form… interesting title. inspired by notes on a scandal with a twist of 50 shades? Cute play on..end of era, but can be mistaken as end of error.
"This ain't going well", I thought I was stuck in Hell In a boring conversation with a girl called Mel Bout her friend in Cincinnati.
What should I say a beautiful response to… don't touch my hair by Solange Knowles and Tony Toni Tone Feels good due to lack of lyrical content.
05/19/2020 dbuuu13
She sucks. She was just fucking around on the call. Obviously was either asleep or doing something else entirely.
If I was fucking around? Why didn't he hang up? A 4 minute call @ 3.50? most rejected clients barely make 2 minutes with Me. Clearly this fucked fag didn't enjoy trip to gloryhole :). Whisper in his ear and Tell grown boi how to suck cock;). Wanna suck my nigger husband's cock, he'd love that jump for privilege! What a gud boi.