blog:2022:1116_1975_concert_11-13-22_nashville
The 1975 concert 11-13-22 Nashville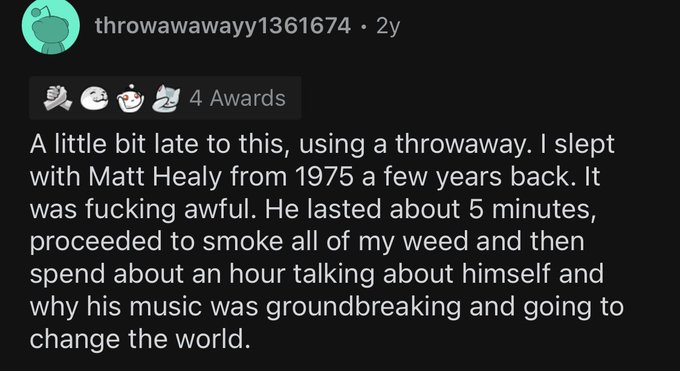 Taken from Twitter do I believe? ..yes, and confirms what I suspected
I missed filming "the consumption scene". I have critiques for sequence in concert.
Matty Healy open eyes connect with audience. Tip Make us feel part not disconnected from voyeuristic display.
I witnessed a prepubescent boy who is finding junk for 1st time. One who is masterfully clumsy in bed having zero stamina or control over orgasm.
Well, like most fumbling idiots in bed I suppose ur no different. Thanx for proving what most males lack.
masturbate in front of a mirror become sentient understand what u look like while turned on or when having an orgasm. Convey message to audience.
Don't passively play, motion is ri·​dic·​u·​lous I laughed for all wrong reasons.
Prince, Madonna, Micheal and Janet Jackson are Artists.
"I want to be loved" Matt Healy. Charming, yes…but lacks sincerity. Don't tell us what we want to hear. We want to feel love in message. simply "we all want to feel love."
Awesome show ;) consumption intermission wasn't necessary. Work on sensuality, sexuality, and teasing audience.
blog/2022/1116_1975_concert_11-13-22_nashville.txt · Last modified: 01/19/2023 05:11 by Alisssandra
---